Home
Did you miss our deadline? Spaces may still be available.
Contact us by email rediscoveryinternational@gmail.com
or give us a call 250 580 4138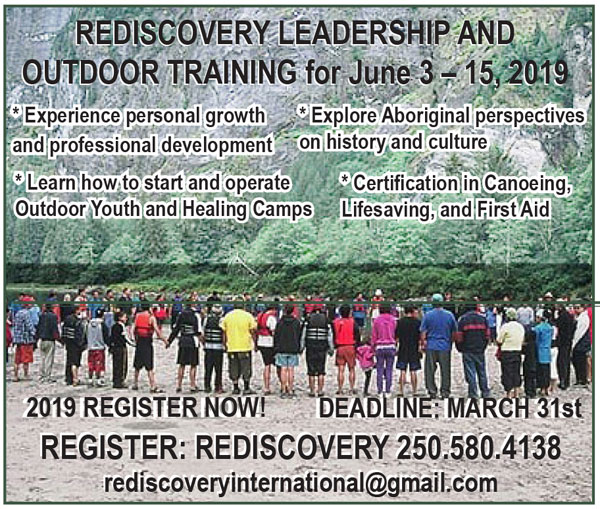 Our Philosophy
"Drawing on the teachings of Indigenous peoples and the wisdom of the Elders, with a philosophy of love and respect for each other and the earth, Rediscovery seeks to empower youth of all ages to discover the world within themselves, the world between cultures and the natural world".
What People Say About Us
"…Through Rediscovery camps young people are re-connected to the land, culture and their communities… increase understanding and awareness and to build bridges between cultures".
Report of the Royal Commission on Aboriginal Peoples, 1996, Vol. IV,pg.16-19 & 58: (The Search for Belonging: Perspectives of Youth).
"Clearly we need a renewed sense of earth as home; belonging to the land, connected to all other living things. Youngsters today have few, if any opportunities to experience the enormity and beauty of the wilderness – Rediscovery offers them that."
Dr. David Suzuki, Scientist and Broadcaster
"I was lucky to be a young president of Rediscovery…going to the place of your ancestors is a deeply emotional experience…getting a sense of how your ancestors lived… so much beauty in the land. It's a lifelong memory I'll be able to share with children. It's important to take time to reconnect with the places and stories."
Dr. Evan Adams, Aboriginal Actor & Physician
" Lots of fun and laughter; I embraced the world family and had an amazing time"
Leadership Trainee Participant, Whitehorse, Yukon